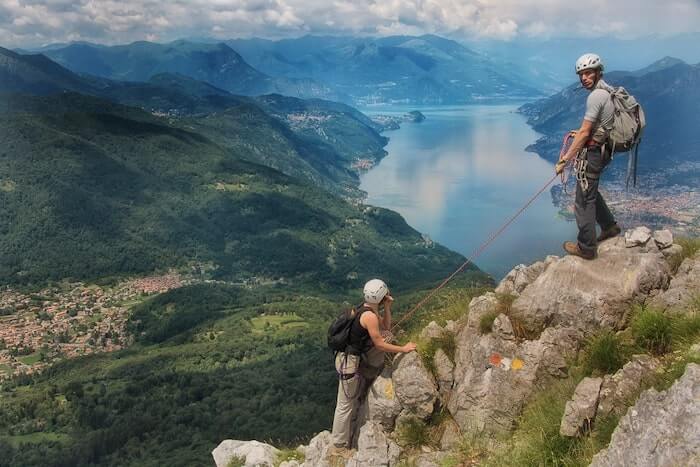 Outdoor activities on Lake Como
Lake Como is famous for its beautiful Villas, the amazing gardens like Villa Melzi, Villa Balbianello and Villa Carlotta… But many people prefer more extreme, exciting and energetic activities. If you are looking for outdoor activities to live with your partner, your friends or your family during your holiday in Bellagio and on Lake Como, read this article that talks about hiking, Via Ferrata, Rock climbing, canyoning and other activities in the mountains of Lake Como.
ROCK CLIMBING
It doesn't matter if you are a real BEGINNER or a climbing PRO! Lake Como Adventures organizes 1 day activities or multi-days experiences. They choose the itinerary upon your willings, level and experience. If you've only climbed indoors or if you have never tried rock climbing, Lake Como adventures will provide all the necessary equipment and will teach you all the basics for an enjoyable afternoon of fun by the lake, in one of the several local sport climbing venues. The main skills you will learn with Roberto and his team? Refined belaying and rope management techniques, rigging and gear placement considerations; plus, of course, improved rock climbing skills! Other rock climbing activities available:
Climbing Day / Multi-pitch Route on limestone
Climbing Day / Multi-pitch Route on granite
Click here for more information
CANYONING
Leave behind any fear or indecision and experience one of the funniest activities you could practice on Lake Como: canyon that are ideal for canyoning are often cut into the bedrock stone, forming narrow gorges with numerous drops, beautifully sculpted walls, and sometimes spectacular waterfalls. Most canyons on Lake Como are cut into limestone, sandstone or granite. Canyons can be very easy or extremely difficult, though emphasis in the sport is usually on aesthetics and fun rather than pure difficulty.
Click here for more information
HIKING
Lake Como offers easy and more adventurous hikes. You know, when you experience an area with a guide it will enrich your knowledge (culturally and phisically). Lake Como adventures loves proposing these experiences:
Mount Legnone: 2609mt.
Grignetta: 2184mt.
The Grigne Traverse: A 3 full days in middle of the Grigne massif, with superb view on the Lake and on all the Alps.
Sentiero Roma: average altitude of 2400-2500 metres above sea level, in a 3 days trip from Lake Como.
Click here for more information
VIA FERRATA
This is a sort of rock climb, secured all the way with a steel cable which runs along the route and is periodically fixed to the rock. The cable can also be used as aid to climbing, and additional climbing aids, such as iron rungs (stemples), pegs, carved steps and even ladders and bridges. Lake Como adventures offers different levels of Via Ferrata. Here some ideas:
Varenna EASY
If you are looking for a private view of the Lake without big effort. It is our entry level tour and requires just more than 2 hours.
Mount Generoso EASY+
The best to have a first try in the mountains or if you want to have a relaxed day with little adventure. It suits also big groups or young children from 8 years old.
Corni di Canzo INTERMEDIATE
Located on the peaks above Bellagio, it's a medium challenging and panoramic possibility with just some steeper parts, nice and smooth 40min approach hike and hut at the base with local food. Kids from 10 to 14 yrs old allowed in a private tour.
Mount San Salvatore (Lugano) INTERMEDIATE++
Located just few minutes from Lugano city center, it offer
stunning view on Lugano Lake and on the whole alpine range
.
Mount Grona INTERMEDIATE++
Located just above Menaggio, is definitely that place that you can define as a
balcony on the lake
.
Mount ResegoneINTERMEDIATE+
An intermediate route taking place above the city of Lecco. Nice scenery, some
nice surprises and a pleasant descent with cablecar!
Click here for more information
What are you waiting now? Choose the best experience and live Lake Como as best!
"Have a great time in Bellagio!"
"Every mountain top is within reach if you just keep climbing."– Barry Finlay