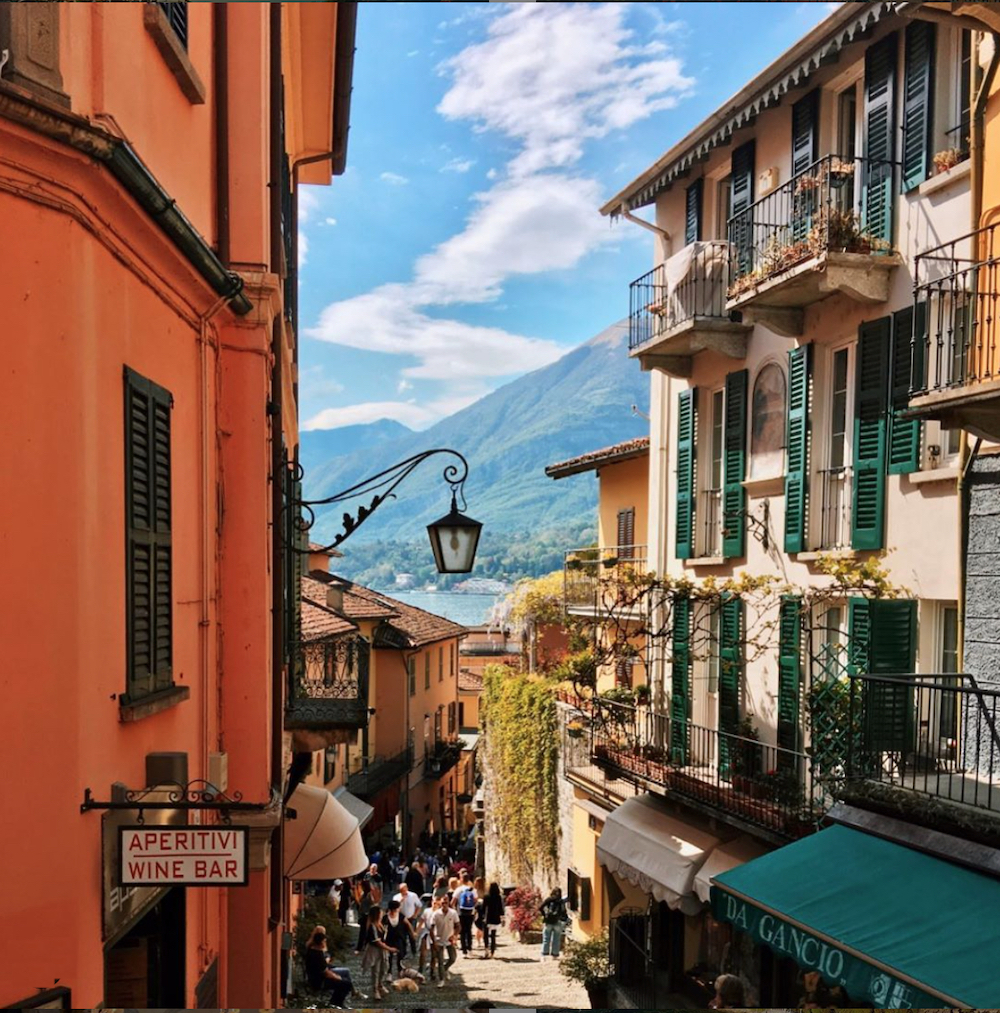 Three days in Bellagio
Do you like walking? Are you a fan of water sports?
Are you a lover of culture and good food? Are you looking for some relaxation?
Lake Como is the right destination!
Using this guide and the app Bellagio Travel Guide app , you will find a list of THINGS TO DO in Bellagio and Lake Como!
DAY 1
The first day is, for most people, a day of relaxation.
After the trip it is necessary to recharge a little .. What's better than starting walking around Bellagio?
Do not worry, you're not wasting time if you do not have a destination, remember you're on vacation and you have to take some time to relax!
A great way is certainly to walk through the main street "Via Garibaldi": here you will find lovely boutiques and typical products shops.
For example, Delicatessen di Caio is a great place to stop by: a lovely mini-market where you can find Italian food products and fresh food for a picnic or aperitif.
The most popular stairway in Bellagio is "Salita Serbelloni": a colorful corner of Bellagio with shops, ice-cream shop, restaurants.
Our tips are:
Yes, exactly: everything in just one "street"!
If instead you do not like to waste even a second of your time in Bellagio, we suggest you to download the free app Bellagio Travel Guide to let you drive up to the beautiful gardens of Villa Melzi.
On the app you can find the prices of the entrance ticket, credit cards are not accepted, so bring cash with you!
Now let yourself be enchanted by the magic of this botanical garden, in love with this magical place that has made artists, composers, writers and travelers fall in love since ancient times.
To visit the garden entirely, including the Napoleonic museum and the chapel, you will need at least an hour!
Here you can relax, read a book or, if you are a lover of photography, you will take a "million" of photos to this extraordinary botanical garden (elected "Most beautiful park" of Italy in 2016).
If it's not too late we suggest you to take a walk from Loppia (the exit of Villa Melzi) to Pescallo, a very romantic and picturesque bay (about 20 minutes walking).
Here you can stop and relax admiring the lake from one of the benches in the little "porticciolo".
Sunset timeBellagio offers wonderful, colorful and romantic sunsets![/vc_column_text][vc_column_text]In Pescallo you find a romantic restaurant by the water: La Pergola.
To walk back to the centre you can walk by Via Ercole Sfondrati and then take the "Salita Cappuccini": a quite steep staircase but very characteristic (about 10 minutes).
Before dinner the happy hour is a must!
As you are in Italy you must have Aperol Spritz.
For dinner you have a wide choice: pizza, traditional food, Lake fish… It's never an easy choice 😉
If you want an easy dinner with pizza or pasta you must try Ristoro Forma e gusto, right in the centre of Bellagio (pizza and pasta: Prices between 10€ and 40€)
If, instead, you prefer a more refined dinner you should choose Ristorante Barchetta (Italian traditional food. Prices between 40€ and 100€)
After dinner you can take a walk in the centre but not many shops are open after 7pm.
Do not forget to plan your second day in Bellagio!
You can choose to rely on experts for a bespoke experience, choose a group tour, or opt for do-it-yourself!
BESPOKE EXPERIENCES
Password RELAX! Leave the stress at home and let the "local experts" create a tailor-made day for you: boat tours, excursions on the mountains surrounding Lake Como, exclusive helicopter flights…. Free your imagination! Send us an e-mail at info@bellagiotravelguide.com
SHARED TOURS
Use Bellagio Travel Guide App to find the theme-based tours or if you have tour operator preferences choose whether to use Viator, Get Your Guide, or Musement.
Here you can find beautiful experiences such as boat tours or kayaking, relaxing activities such as painting or cooking lessons or tours through history, gardens and good food!
DAY 2
Surely visiting Lake Como by boat is an experience not to be missed!
You can buy a day pass for € 15 (approx.) Which allows you to "hop on and off" during the day in Varenna, Tremezzo, Lenno and Menaggio.
If you like to wake up early, the advice is to "jump" on the  9:15 approx boat to Lenno so you can enjoy the visit to the wonderful Villa del Balbianello (closed to visit on Monday and Wednesday) Famous for films like Star Wars and James Bond Casino Royale , is one of FAI's assets, thanks to its cultural and artistic richness.
A little 'free time for the streets of Lenno, a bite to the flight, before embarking again, Tremezzo direction and Villa Carlotta.
Remember to keep up to date on the times of the villas and boats using the app!
Ice-cream break in Menaggio! So you'll have time to walk through the streets of the historic center or enjoy a relaxing walk along the lakefront.
Time to come back? Not before having walked on the famous "love route" of one of the most characteristic villages of Lake Como: Varenna!
You'll fall in love: these small houses perched that look all colored on the lake will "steal" a few shots!
Aperitif time is near! Choose to stay longer in Varenna, maybe even for a dinner!
The last ferry to Bellagio leaves around 11pm 
In spring/autumn and on Sundays the last ferry to Bellagio is around 9.00pm).
DAY 3
Last day of this 3 days in Bellagio, and here the choices are multiple:
DAY IN COMO: by boat or taxi for a day of shopping, history and tradition
EXCURSIONS IN THE MOUNTAINS with a guide or, in safety, with the DIY
BOAT RENTAL, CANOE OR WATER SPORTS use Bellagio Travel Guide app to find the one closest to you!
Have a great time in Bellagio!"
"Travel is never a question of money, but of courage." – Paulo Coelho